Cannabeauty and the power of CBD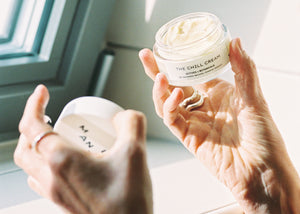 For years, the link between cannabis and wellness has been a hot topic of debate. But with the legalization of cannabis sweeping North America and discussions happening across Europe, something magic was unlocked: the power of CBD. Unlike THC, CBD doesn't get you high (even though both are compounds of the cannabis plant), but it DOES deliver some serious health benefits both when ingested orally and applied topically. We're talking glowing skin and deep, dreamy sleeps. As research expanded on cannabis and all its compounds, so too did the findings on just how amazingly dope (pun intended) CBD really is. 

It therefore shouldn't come as a surprise that the beauty industry was quick to claim CBD as its own. And just like that, Cannabeauty was born. While North America has enjoyed the benefits of well-branded Cannabeauty for years, Europe fell behind, largely due to the stigma around CBD and its connection to 'weed'. Enter MANTLE: A Swedish company born out of love for CBD and a lifelong affair with wellness. 
We caught up with founders Josefin Landgård and Stina Lönnkvist to chat all things CBD.
Names: Josefin Landgård and Stina Lönnkvist
Titles: Founder, CEO and co-founder, CMO
Company: MANTLE
Let's introduce the Ara'Kai community to the two of you and your backgrounds!



We're Josefin Landgård and Stina Lönnkvist, two serial entrepreneurs who share a burning passion for wellness and beauty

—

specifically with CBD. Before founding MANTLE, Stina worked as a brand strategist and yoga teacher, and Josefin a tech entrepreneur and angel investor.
Can you each describe what your wellness and beauty routine looks like on a typical day?

Josefin: Between having two kids, a dog, and running a startup there's not a lot of time left for myself — but what I never compromise on is a clean and moisturized face. I make sure to wash my face every day with The Magic Milk which removes all impurities without drying my skin out, and then follow up with my seasonal moisturizer The Rich Cream during winter and The Chill Cream during summer. I also do our triple-effect exfoliator The Ex while brushing my teeth a few times per week.

Stina: As a former yoga teacher I try to find those moments in everyday life where I can recharge and find some calm. I try (read try with a big T) to do a few minutes of gua sha every night on my face and neck to release tension and increase circulation and lymphatic drainage. It truly helps me wind down and get into a more relaxed headspace before going to sleep. I always pair my gua sha sessions with The Glow Serum and a few drops of CBD oil. I'm also an on-the-go girl who never leaves home without my multi-balm The Calm Balm and our blue-light protecting mist The Must Mist.
What's been the biggest benefit of using CBD skincare for your own skin?

Wow, where to start! It is a powerful and exclusive ingredient with lots of benefits. High-quality CBD is a savior for stressed, tired, and dry skin. The ingredient is deeply soothing, moisturizing, and maxed out with antioxidants that fight free radicals. CBD also boosts collagen production, which is the most important factor in maintaining elasticity and radiance in the skin. What's also cool about CBD is that it works for both sensitive skin and oily acne-prone skin. The holy grail of skincare ingredients!



What other hero ingredients pair well with CBD?

We love to pair our CBD with other actives and botanicals to give the products maximal potency. Some of our favorites are bakuchiol, niacinamide, licorice root, rosemary, hyaluronic acid, and buckthorn extract.

We have both always been fans of optimizing health and beauty with the power of plants. Our mission with MANTLE is to create kick-ass wellness and beauty products that inspire modern people with modern lives to infuse some more zen into their lives.
How has your relationship to CBD and cannabis changed through developing MANTLE?

When we tried CBD, it was love at first drop — and our obsession with the ingredient has only grown stronger in light of MANTLE. We see all the amazing benefits of CBD so clearly, both for internal and external use, and are so excited that more and more research is being done as we speak.
What has been the biggest challenge in overcoming the stigmas related to CBD?

There has of course been an educational process we've had to go through to make people understand that it's not a scary, illegal, or bad ingredient. Yes, CBD comes from the cannabis plant, but is not to be confused with the (in)famous compound THC - known for causing a high. The cannabis plant has an unfairly bad rep because people's minds are immediately drawn to weed, but in reality, the plant can be used for hundreds of purposes. At MANTLE, we want to reclaim the multi-functionality of the cannabis plant. However, I think the most powerful move is to actually get people to try the products and experience the magic.

As discussions around CBD (and cannabis in general) continue to develop around the world, what kind of future do you see for cannabis in the wellness space?

We for sure believe that this ingredient is here to stay and we are so excited to be at the forefront in Scandinavia of pushing the boundaries on how CBD can be used.

As CBD is becoming less stigmatized and more people are catching on to its de-stressing powers, you'll start seeing it pop up in more and more products. At MANTLE we are working on a few exciting extensions and collaborations, but we want to use CBD in product categories where it makes sense to have CBD, and not just because it's trendy. What many people don't know is that the quality of different CBD products varies greatly depending on how the CBD is produced. When creating MANTLE, we had trouble finding a grower with excellent quality — almost everyone seemed to make shortcuts in the production. After a long search, we found a small-scale farmer in Switzerland who's a front-runner in biodynamic cultivation. The leaves are grown in natural sunlight, handpicked, and cold-pressed with attention to detail to ensure the highest potency and quality possible.
Your products are all produced locally in Sweden with CBD from a small farm in Switzerland. How important are these processes to MANTLE products and the brand's values?

For us, it's all about the quality, which we can ensure by having the production of the products locally sourced in Sweden and of course the best CBD there is from Switzerland. We want to create high-quality, no BS products that actually show results!
What would you say to those looking to try CBD orally for the first time?

Just try it, you will love it! The thing about CBD is that it will provide you with exactly what you need at the time. As CBD balances your body's own system, it will enhance your optimal state of being, both physically and mentally.